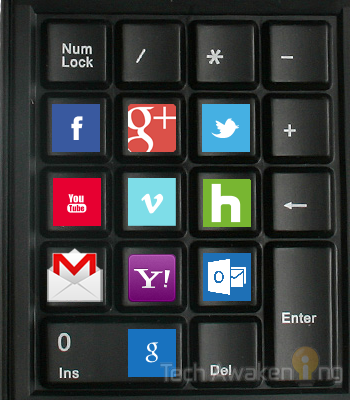 In this busy digital world every second is precious. Everyone is trying their best to save time in one way or the other. Being connect with the internet always has become inevitable these days.
There are some set of sites which we will usually visit. They probably would have become a part of our daily routine. For example checking emails, staying connected with friends via social networks, spending leisure time on video sharing sites.
If you had been using a computer for a while you would have noticed that using keyboard shortcuts instead of using mouse to perform operation is immensely easy and time saving. Hence the reason most of the software come with built in shortcut to help us speed up things. Some keyboards have hardware keys to control volume, brightness and other system setting but how about keys to open sites you visit frequently?
Introducing Web on Keys:
Meet the Web on Keys a simple tool that will help you instantly open popular and your favorite sites with keyboard shortcuts. What we usually do is launch the browser then type in the URL in address bar or click on the bookmark we made. But with this tool all you need to do is simply press the keyboard shortcut it will automatically launch the default browser and will open the sites individually in tabs hence saving you lot of time and effort.
How to Open Websites with Simple Keyboard Shortcuts?
1. Download Web on Keys.
2. Right click and extract the folder. Double click and run Web on Keys.exe
3. That's it. All you need is to press the below shortcuts to open websites. If you are a desktop user, turn on your Num Lock and use the shortcuts. If you are a Laptop user, directly use the shortcuts. Refer the previous image for visual reference.
| Shortcut Key | Website |
| --- | --- |
| CTRL + 7 | Facebook |
| CTRL + 8 | Google Plus |
| CTRL + 9 | Twitter |
| CTRL + 4 | YouTube |
| CTRL + 5 | Vimeo |
| CTRL + 6 | Hulu |
| CTRL + 1 | Gmail |
| CTRL + 2 | Yahoo Mail |
| CTRL + 3 | Outlook Mail |
| CTRL + 0 | Google |
If you wish to customize the shortcuts or would like to add new sites or want to see the source code feel free to drop in with your comments, I will be obliged to help you out.
So, did you find this tool useful? Did it work for you? Have some suggestions? You are most welcome to share your views. Do spread the word, share it with your friends.
Thanks Robin Slater for the inspiration!