Disclaimer: This article is purely for educational purpose. I cannot be held responsible if you are violating the terms and conditions of AuthorStream.
AuthorStream is web based PowerPoint sharing website where users can upload their files and share it with others.
The uploaded files get converted into Flash format so that the content can easily be viewed via browser. This site seems to have good collection of useful resources contributed by various users. Next time if you are in search of presentations this is one place you should not miss out.
As usual presenter/author of the document have control over the file, whether it should be allowed to be downloaded or not. My personal opinion is that if it has been put to be viewed on the internet, it should be allowed to be downloaded too unless it's paid version.
So when the author has opted not to, you will see that download option is disabled and faded out. Only option left to you is to personally request the uploader and wait for his response but if you are in urgent need you could probably not settle with that option. In this article lets see how you can get the presentations from authorStream website though presenter has disabled the download option.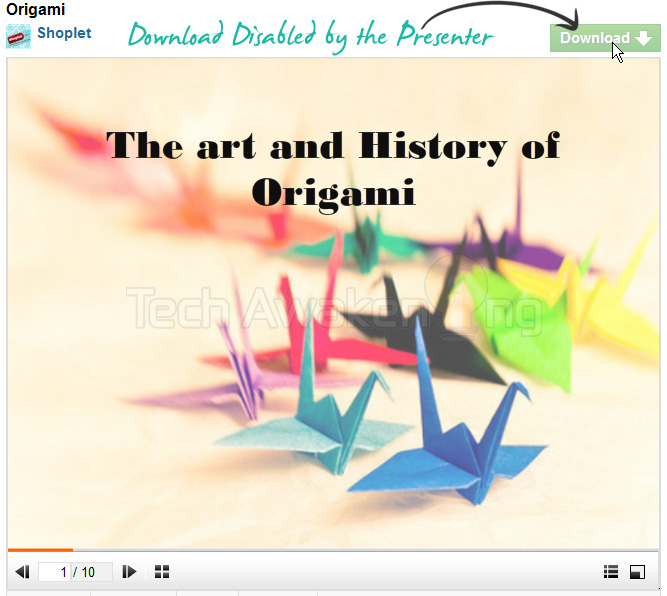 How to Download Presentations from authorSTREAM when Presenter has Disabled it?
As you might know it's not the only presentation sharing site that puts in such restrictions. We have already discussed on how to download documents from Scribd and SlideShare when the uploader has disabled download option. Lets get started with the instructions.
1. Sign up for an account on authorStream.
2. Once it's completed. Log-in to your account.
3. Go to the concerned document you wish to download.
4. Manipulate the URL in the browser address bar as follows and hit enter:
From
: http://
www
.authorstream.com/Presentation/test-1121114-document/
To: http://m.authorstream.com/Presentation/test-1121114-document/
5. Now you will be taken to the mobile version of the site.
6. Presentation will be displayed as series of images. You can just right click on each on the image and select Save Images As. Select some location on your disk and save it. Navigate through the entire slide via controls at the bottom and save all images.
Bonus Tip
: Only the slide number differs in each URL so you can use any Internet Download Manager to add them to queue and download in one-go to save time.
Eg: http://c.asstatic.com/images/1109999_677768888122222011-1.jpg, http://c.asstatic.com/images/1109999_677768888122222011-2.jpg and so on.
7. Open your Microsoft Office PowerPoint and create a new empty presentation.
8. Create new slides and start inserting images you downloaded, Insert-> Picture-> From File then select your image and click insert.
9. Do this for all images and save your presentation.
Bonus Tip
: You can convert your PPT to PDF so that you can read them on your mobile devices too. Download and install
Microsoft Save as PDF Add-in
.
Were you able to download presentation you wanted? Have any other better solutions? Do share with us.