Google Tasks is one handy tool which I use often to create a quick to-do list. It's simple, efficient and easy to use. What makes it even more powerful is that they are integrated with other Google services like Gmail, Calendar and iGoogle.
It certainly does help me a lot in keeping things organized and with features like directly adding your Gmail emails to task list for follow ups (Press Shift + T) makes it one indispensable tool. If you had not yet explored this tool, launch it by clicking on Gmail(Top left corner) ->Tasks.
The tool currently supports to share your task list via emails. But in most case it's not sufficient, wouldn't it be great if there is a way to allow others to update your Task List so that the list always remains fresh and updated. If you are working in team or if there are more than one person managing the list then it becomes a must have feature.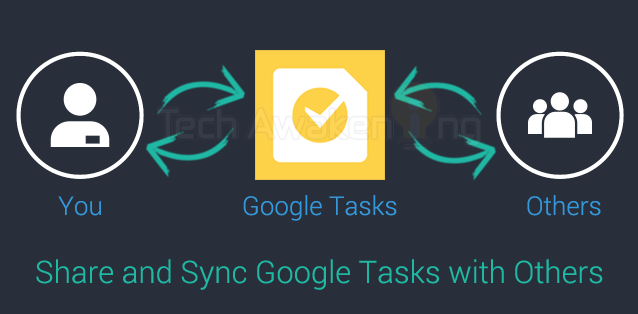 Consider these situations:
Your project manager has created a to-do list in his account and requires the list to be updated by team members as and when they complete the tasks.
You are a homemaker and have created a list of things to be bought for this week. Your husband has promised to get some of the things while he is back from office and your maiden has gone out to get few others. So how would you ensure that the list is synced up and is up-to-date?
So, I have come up with an app to address this problem and it will help you in getting this missing feature.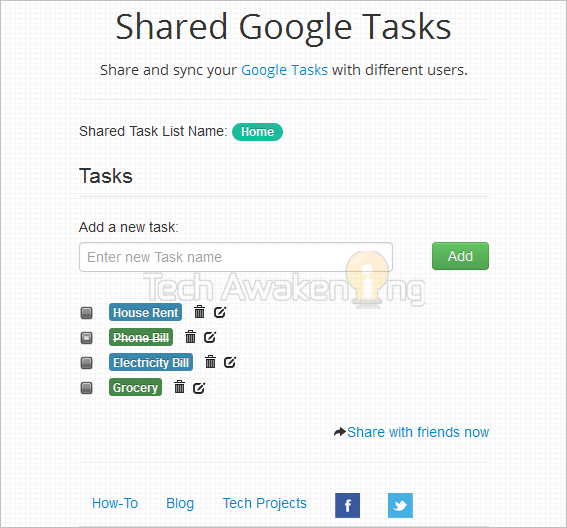 Introducing Shared Google Tasks:
This app will help you share and sync your Google task list with others. You can even share your list with anonymous users who don't have Google account who can update the tasks and the data will instantly be reflected in your account.
Features:
1. The sync up takes place instantly. There is no polling.
2. Any user with or without Google account can update the list.
3. You can add, edit, mark as completed or pending and delete any tasks.
4. Lesser the chances of running out of usage quota. Only your account is using the app this isn't the case with third party apps.
How to Create a Shared Google Task List?
1. Configuring the App
Following are one-time setup actions done when you are using the app for the first time.
Login to your Gmail account
Click here to create a copy of Shared Google Tasks project.
Make a copy of it by selecting File-> Make a copy.
Select Resources -> Advanced Google Services. Toggle Tasks API to on. Then click on the Google Developers Console link on the bottom. Search for Tasks API, click on it and press enable. Close the page. Finally click OK in the pop-up.

Select Run->AUTHORIZE. Click Authorise-> Accept.
Now go to line 31 and enter name of the task list you want to share within the quotes. If you are unsure of the name of the list visit Google Tasks and see left column to find it. Please note that the name is case sensitive. Finally press CTRL + S to save the changes.

Select Run->Initialize.
Final step is to publish the app. Publish->Deploy as web app. Click save new version. Select, me under Execute the app as option then Select anyone, even anonymous under who has access to app. Click Deploy. Open the URL which is generated.
Now you should see your tasks being displayed. So you can share this URL with anyone you wish.
Tip: Click on Share with friend now link if you have email client configured.
2. How to use Shared Google Task App
Using the app is straight forward.
– To add new task enter the name in the field provided and click Add.
– To edit existing task, click on pencil icon, update task and click tick button to save.
– To mark a task as complete, click on the check-box available beside the task, completion of which will be indicated via strike-through.
– To mark a task as pending, un-check the check-box.
– To delete any task just click on the trash icon by the side.
Changes you made will be synced instantly without any delay.
Thanks to Google's simple tasks sample app which inspired this project.
So, did you like the tool? Start creating your sharable Google Task Lists right away. Have any queries or feedback please do share it via comments. Spread the word if you liked the app.