E-commerce in India is booming like never before. Standing third in number of Internet users and with ~10 million online shoppers certainly there is a huge untapped potential to be made use of.
Few main reasons for growing trend toward online shopping:
Busy schedule and work timing makes it all that difficult to step out.
Lower prices compared to that you get in physical stores.
More, better product options to chose from.
Gone are those days when we were afraid to use our bank details online for shopping. Be it pillow, mobile, furniture , jewellery and what not is there to be bought just few clicks away.
One of the key driving force that makes us choose online purchase is the price factor. A product which you buy in traditional shops could very well be bought online with huge saving. Concepts like coupon, giveaways and cash on delivery makes it all that favorable to us.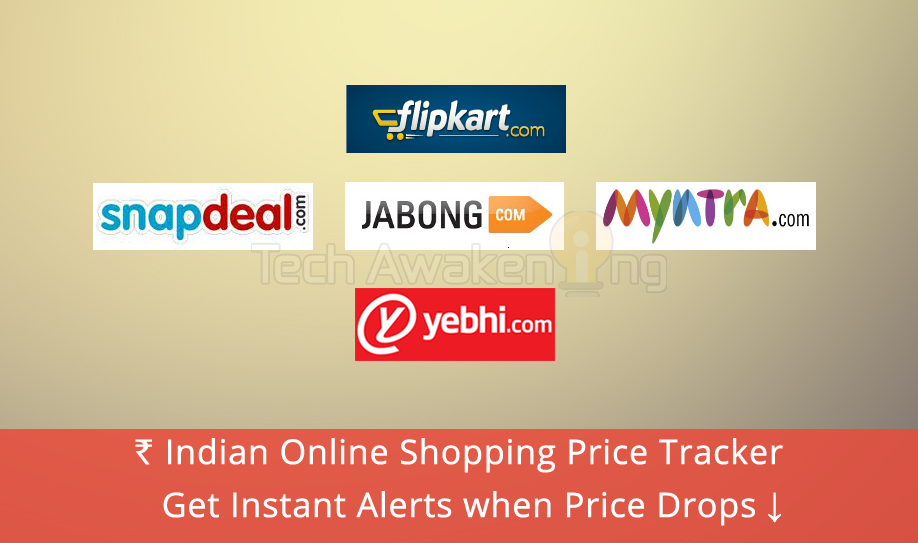 Having said all this there are also few things which we need to consider. One of the most common compliments that many shoppers make about e-commerce websites is their habit of hiking and lowering price of products then and now.
In the name of offers, product prices are shot up and then discounts are provided against the same product giving an illusion to us as if we are making big savings.
As a shopper we always wish to get the best price. A smart customer does keep eye on the pricing of the item he is interested in, grabbing it at the right moment when the best deal is available.
To do this there are lots of price monitoring services which alerts you when best cost is available. Especially for Amazon there are lots of tools. But when I searched online there are very few, almost none for tracking product prices on Indian e-commerce websites. So why not create one for ourself?
Introducing Indian Online Shopping Price Tracker:
Price tracker which allows to track price of products on Flipkart, Snapdeal, Jabong, Myntra and Yebhi and instantly get alerts as and when its price goes down below the threshold which you set.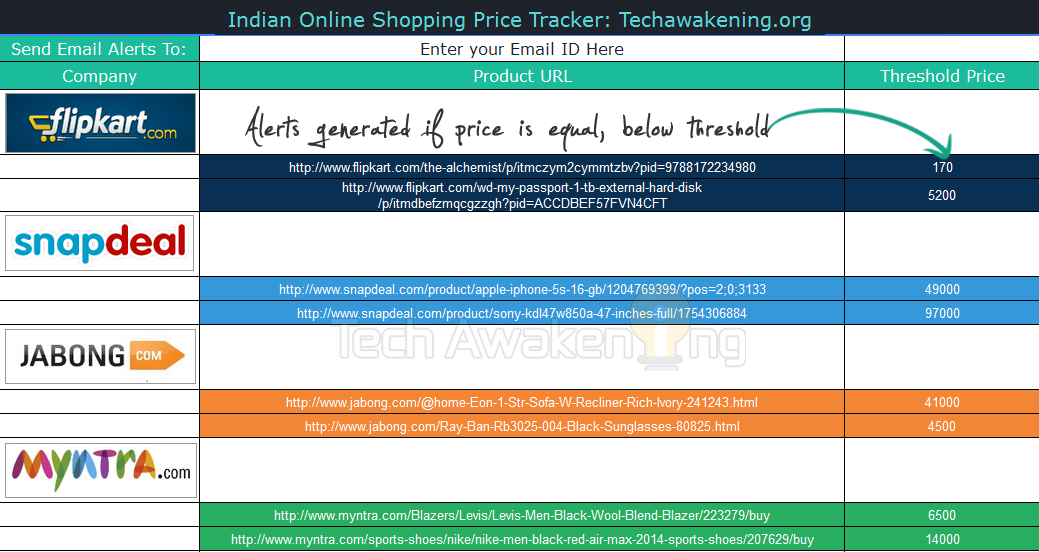 Track Product Price Drops in Top Indian E-commerce Sites with Google Docs3h> 1. Installing the Application

Login to your Google Docs account.
Click here to make a copy of the Indian online shopping price tracker project. Click Yes, make a copy.
Wait for sometime for the menu Shopping Price Tracker to appear next to help menu.
Select Authorize App from the menu. Now click OK in the popup and then Accept button.

2. How to Use the Price Tracker Application

There are two separate set of rows for each of the five supported company. I.e., Currently you can track price of two products per company.
Enter the full URLs(including http) of the product you want to track on column B. Just go to the product details page instead of search result page and copy, paste the URL from browser's address bar. Example: WD My Passport 1 TB External Hard Disk – http://www.flipkart.com/wd-my-passport-1-tb-external-hard-disk/p/itmdbefzmqcgzzgh?pid=ACCDBEF57FVN4CFT
Now enter threshold price on column C. I.e., You will get alerts when price is equal or below the threshold.
Enter valid email ID in B2 cell.
Once all data entry is made its time to start the tracker. Select Shopping Price Tracker-> Start Monitoring Price and you can close the sheet.
Similary if you want to stop alerts select Stop Monitoring Price.
That's it from here on all listed products will constantly be monitored and alerts(like below) will be sent to your email ID as and when there are drop in prices.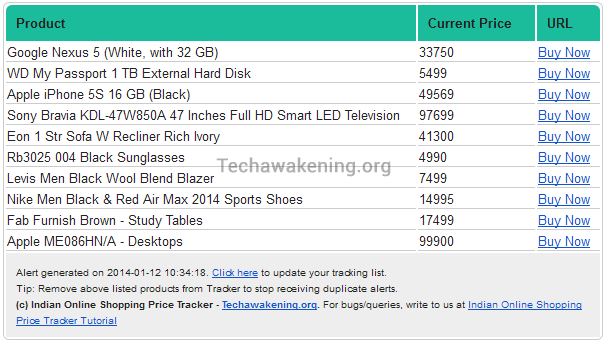 Notes and Tips:
Prices are checked and monitored every half an hour.
To avoid receiving duplicate alerts about the same product remove(empty the cell) them from the sheet once you get an email alert about that item's price dip.
Create a filter and assign labels to better organize these alert emails.
Thanks Amit Agarwal for the inspiration.
So, was it useful? Were you to able to save some cash on your favorite products? Have suggestion/queries? Please feel free to drop in your comment. Do share this with your friends and family and help them save some bucks too 🙂