Gmail is one the most widely used web mail service. Google has always been constantly updating its services to provide the best to its user. Gmail does offers you with some stunning feature which other web-mail might not provide but at the same time it does lack some essential features for example the ability to sort email by sender, date etc., Most of us use Gmail for both personally and official purpose. On many occasions official emails tend to have attachments that come along with it. At times we would like to search for emails by entering keywords inside the attached documents. But does Gmail support this feature?
Consider a Situation: You are urgently in search of an important document that came as an attachment in one of your email. But you neither remember the one who sent that email nor the subject or body of the email. All you remember is some sentences within the document. So how will you find the email?
Answer: Doing a search in Gmail will not give any results unless the attachment is a text (.txt) file. But sadly most of the time office related documents are in Microsoft Office format or in PDF format. The answer is to use Attachments.me, which lets you search within documents in Gmail attachments.
[Update- Oct 4, 2012]

Now Gmail officially supports this feature. Once your attachments are indexed you will able to search inside it.
E.g. has:attachment text within the document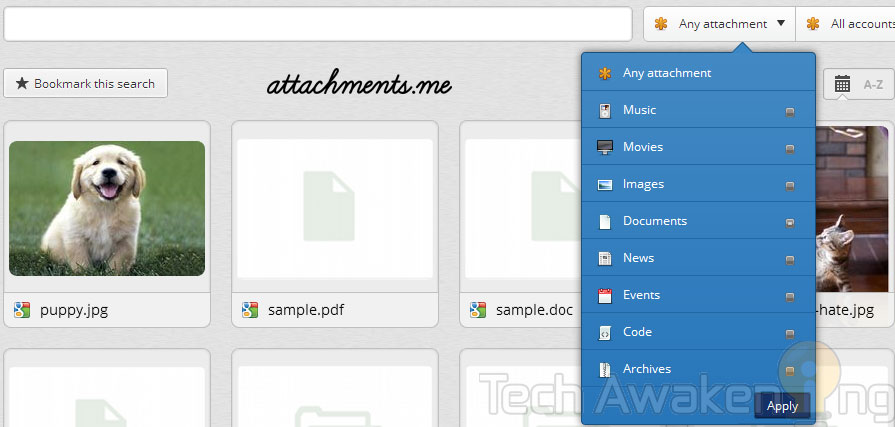 How to use Attachments.me to Search inside Gmail Attachments?
1. First install Attachments.me app.
–Attachments.me Chrome Extension
–Attachments.me Firefox Add-on
–Attachments.me iPhone app
2. Log-in to your Gmail account and authenticate the app by allowing access to your account.

3. Now you will get a greeting email from Attachments.me. Allow few minutes for the service to index attachments in your account.
4. Start off by searching for cat. You will be able to see a new search results section just below the search bar.
To find attachments containing any word or sentence just key in them and hit search, attachments.me will display all the documents with matches.
I tested by searching for a sentence within a DOC and PDF file, the service was able to find them correctly while Gmail was unable to find it.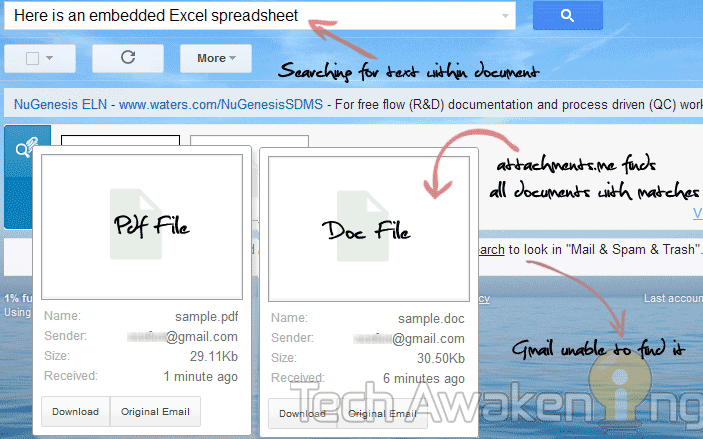 Tip: If you want to sort your email based on type of attachments just go to the official site (attachments.me) while logged into your account and choose attachments type from the drop down.
Save Gmail Attachments to Cloud-Storage Based on Rules
Another amazing feature of this service is it allows you to set rules, based on which your email attachments can be moved to cloud service like Dropbox and Box.
1. Click on the floating attachment icon on the top.
2. Click manage rules and then create rules.
3. Set the rules and destination location. For the first time you need to authorize your Dropbox and Box account.
4. Finally click create rule.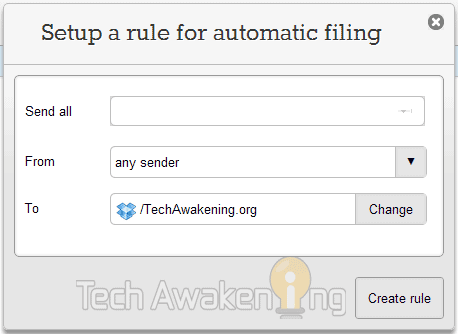 Take complete control of your Gmail attachments with this service! Found it useful? Do share it across