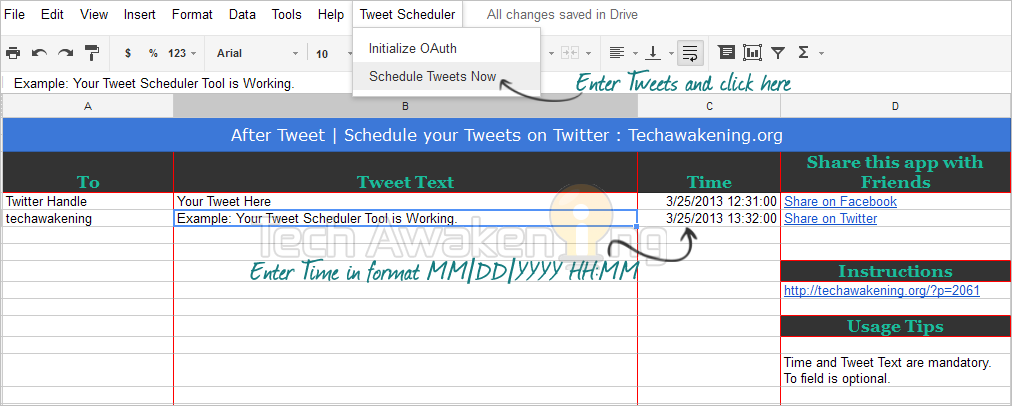 Twitter is a unique social networking service known for the characteristic of allowing users to share messages of upto 140 characters only. You might have noticed that celebrities and famous personalities choose Twitter over other services.
Tweeting out the right content at the right time can make a lot of differences for your business. Over the period of time you might have got to know when your followers are active and when you are getting maximum response or feedback. You might wish to tweet only on these peak hours for better reach. But it might not be possible to always be available on those time. Similarly you may like to wish your friends on his/her birthday but each and every time you might end up forgetting it.
So scheduling your Tweets is the best option to address all the above problems. Since Twitter does not have this feature you have to depend on external services. Currently there are many third party services to do this. But the concern is you might not be comfortable in giving write access to some known service. You might not know when they can turn bad. Another problem is their availability, service available now might cease to exist in future.
Introducing After Tweet:
This tool lets you create your very own Tweet scheduler. You can schedule your Twitter messages and send it your followers at any time automatically for free. The tool will entirely be controlled by you. Below are instructions how to get things started.
Create your own Twitter Scheduler – Send Tweets Automatically at Scheduled Time
Step 1: Create a Simple Twitter Application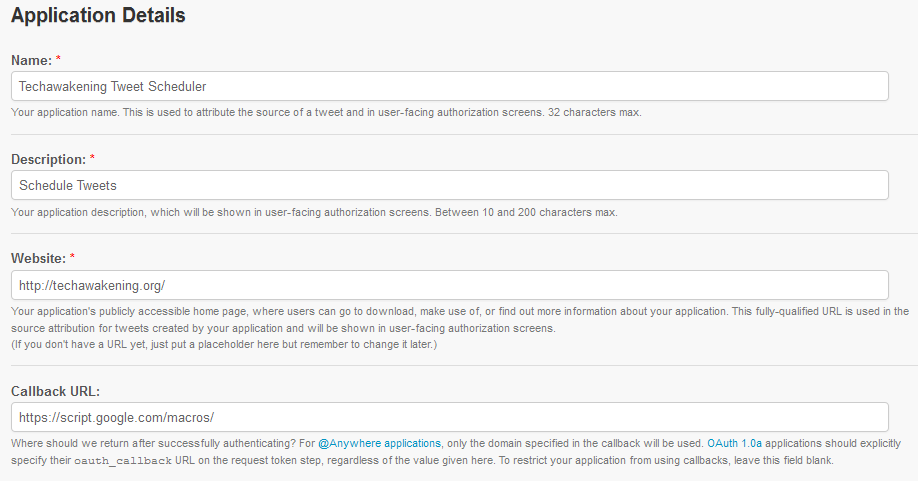 Login to https://dev.twitter.com/ with your Twitter credentials.

– Give any name to the application
– Give some description
– Website URL can be any site.
– Callback URL must be https://script.google.com/macros/
– Check terms and conditions and then fill-in the Captcha and click create your Twitter application.

Click on setting Permissions tab. Select read and write. Then click update settings at the bottom.
Click Keys and Access Tokens tab. Note down Consumer/API key and Consumer/API secret.
Step 2: Creating After Tweet Scheduler App on Google Drive
Log-in to your Google Docs account.
Now click here to make copy of After Tweet Scheduler V2 app. Click Yes, make a copy.
Wait for few seconds for the menu Tweet Scheduler to appear next to Help. Select Initialize OAuth from it. Now click OK in the authorization popup and finally click close. Now again select Initialize OAuth from the menu. In the popup that appears enter the consumer Key and consumer Secret you noted down in Step 1. Finally click Save Configuration. This is an one time process.

Select Tools-> Script Editor. Then Run-> AUTHORIZE. In the popup that appears click Continue.

Now you will be taken to the Twitter app which you created in Step 1. Authorize the app by logging in with your Twitter credentials.
Step 3: How to use the Application
All the configurations are complete now. Let's now start scheduling the tweets.
Go to the Spreadsheet. Enter the Tweet text(Only 140 characters) in column B and enter Time in column C in 24 hours format like MM/DD/YYYY HH:MM. Eg., 3/30/2013 15:31. Enter twitter handle of the person whom you want to address in column A it's optional though, whereas Tweet text and Time are mandatory.
Once you are done. Select Tweet Scheduler-> Schedule Tweets Now. All your Tweets will be scheduled as per the time you have given and will automatically be Tweeted from your profile at appropriate time.
Note: Currently you can schedule up to 20 tweets per app.
Whenever you update tweet or time in the sheet, it's automatically rescheduled.
So, start using the After Tweet scheduler app and get productive. Reach out to the people at the time when it matters the most. Did you like the App? Stuck at any of the step? Feel free to drop in your questions and suggestions.