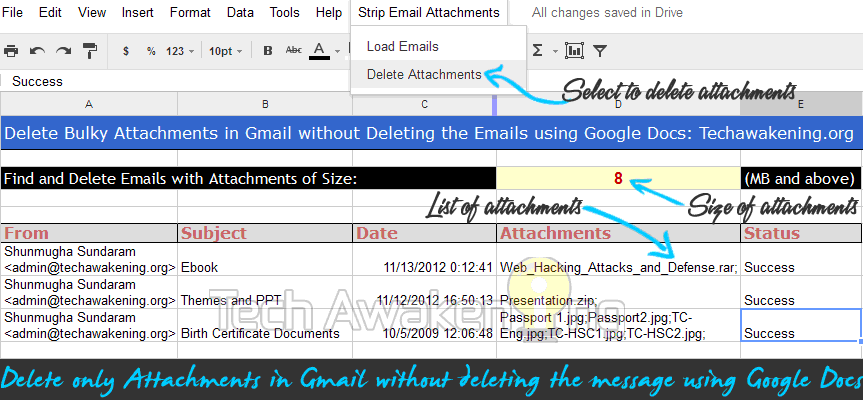 Gmail offers us nearly 10 GB of free storage for our inbox. It might look sufficient enough but if you are an active user, over a period of time you very well might end up using all of the available space. Most of the time the culprit would be bulky attachments that sits in your inbox occupying unwanted memory.
What to do in such a situation?
You can buy extra storage from Google or other alternative would be to track down those email message containing large attachments and delete them. Gmail does offer an undocumented operator called "SIZE" which you can use to find bulky emails. EG: SIZE:1MB. After which you can select all those messages and trash them to reclaim space.
But there might be situations where you actually don't want to delete the original email chain because they may contain valuable information which you prefer to retain but wish to trash the attachments alone or create a backup of them and remove it from the original message to save space. This feature is currently not available in Gmail but some possible solutions are to use desktop email clients, tools to set up account locally via IMAP and then manually do the process of deleting big attachments.
So here is an alternative I came up with that does not require any desktop software and the process is entirely automated. In this article we are going to discuss how to use Google Docs to delete only attachments in Gmail without deleting original messages.
How Does this Work?
1. You specify the size of the emails to be found in Megabyte.
2. All emails with that or above that size are retrieved and shown.
3. On select of delete all, those emails are processed.
4. All attachments in the message are backed up in your Google Drive under the folder name Gmail_Attachments. So they will remain safe there you can refer them whenever needed.
5. Copy of email body is created and it is sent as a new email to your account from your own ID.
So is the time stamp and sender details of original message lost?
No. They are fetched and appended to the new email copy. Details like date, from, to, cc are retained.

6. Finally original email along with the attachments are trashed.
Delete Attachments Only in Gmail without Deleting Emails with Google Docs
1. First log-in to your Google Docs account.
2. Make copy of the spreadsheet by clicking here. Then click Yes, make a copy.
3. Wait for sometime for the menu Strip Email Attachments to appear just next to help menu.
4. Now mention the size in cell D4 and select Load Emails from the menu. Click OK in authorization popup then click on Grant access followed up by close. Again select load emails and wait for sometime. All email of that size and above it will be fetched and displayed.
Note: You shouldn't manually edit the sheet, selecting emails isn't supported yet. So all emails in the list will be processed as such.

5. Once it's done,select delete attachments from the menu. That's it. Now sit back and wait for sometime while all messages are processed. If everything went well you will see success in status column. You will also be constantly updated with ongoing process status via messages at right bottom of your screen.

6. Finally check your inbox if you have got all the emails with just body sans the attachments and check Google Drive to see if all your files are there. Trash folder will contain all the delete messages.
Video Demo:
Other useful Gmail Tools and Resources:
– Forwarding multiple emails at once in Gmail
– Get free SMS alerts whenever receiving new emails on Gmail
Did it work out for you? Or any difficulty to follow the steps? Feel free to drop in without your suggestions or queries. In case if you have found any bugs do report it. Cheers!