Web has shrunk the world. Even personal views of an individual from the remote part of the world can reach worldwide thanks to the internet. Social Networking sites and blogs have made it possible. It does not cost you a penny to start a blog or website, there are many services who offer it for free. Some write in blogs as a hobby while others do it as a professional or a part time job. If you own a website you might be interested in monitoring its availability around the clock and getting notified when your site is not accessible. When you involve yourself totally on it making it your profession,then it becomes even more important to monitor your site constantly.
There are many free website monitoring sites that lets us do this job. But they are only trial version or come with some limitations. For example Pingdom lets you track only one website and offers only 20 SMS alerts for a free account. So why not build your own website monitoring service? Google Docs helps you do this. I recently came across an article in Digital Inspiration where Amit had demonstrated how to use Google Docs to monitor your website and get email alerts for free. So I thought why not extend the script to allow Google Docs to send you free SMS alerts too when your site is down. Also the current script was supporting the ability to monitor only single site, you had to create mutiple copies to track many sites. So I have also updated the script to support monitoring of many sites with a single doc itself.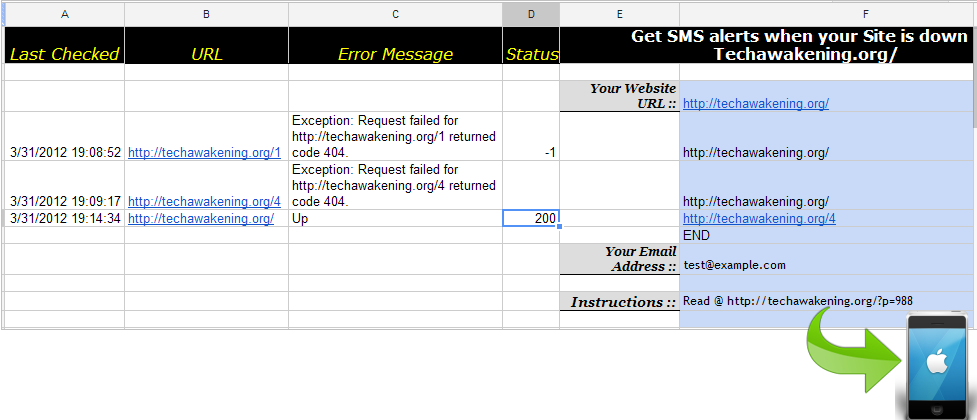 How to Use Google Docs to Monitor Multiple Sites and Get Free Downtime SMS Alerts
Google Calendar will be aiding Google Docs to send free SMS notification when site is down. Whereas the actual monitoring is done by Google Docs.
Configuring Google Calendar for Phone Notification
1. Log in to Google Calendar
2. Click on the Gears icon on the top right and select settings.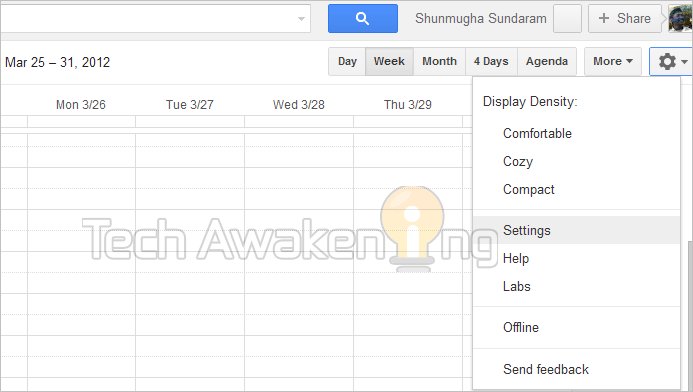 3. Now click on the Mobile Setup tab.
4. Select Country, enter your Phone number and now click Send Verification Code. Now enter the code you got on your mobile and verify your number. If you don't receive the code check if your carriers fall under supported mobile providers.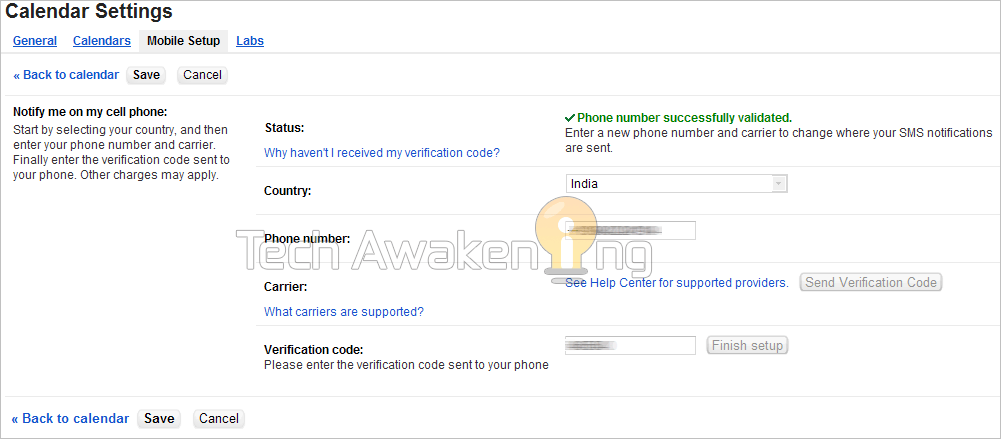 5. Now in Notifications select SMS as your default notification channel and save it.


Now you are done with the Google Calendar configuration part. All that is left is to copy the Google Docs provided below and set the polling frequencies.
Configuring Google Docs To Monitor your Sites
1. Log in to Google Docs
2. Click here to make copy of the Google Spreadsheet.
3. In F3 to F6 cell you can enter the URL of the sites you want to monitor. Currently supports up to four sites. You can tweak the code to support many more.
4. In cell F8 enter your Email Address into which you want to get alerts. Entering phone number is not required as it will be picked up from Google Calendar.
5. Now select Tools-> Script editor.
6. Select Resources-> Current script's triggers. Under Run select "isMySiteDown" then in Event select Time-Driven, Minutes timer and Every minute and save it. Now click the Authorize button and then Grant Access. Save the trigger again.

Now on Google Docs will be polling and monitoring all the sites you have entered every minute. You will be getting SMS alert, Email alert when any of the mentioned site is DOWN, the exception/error details will be logged in 'C' column and URL will be logged in 'B' column helping you identify which site was actually down. Similarly you will be getting alerts once the site which was DOWN is UP again.
If you are interested you can find the source code here. Feel free to modify and tweak it.
So, go ahead and try it out, monitor multiple sites Uptime for free with Google Docs. Did it workout for you? Have any suggestions? Found any bugs? Do report it!