Cloud storage is the best way to backup your important data and files. Even if your system crashes your data is still safe allowing you to access and recover it at anytime. Along with Dropbox, Google Drive is one of the most widely used service.
Consider a scenario:
You are working in a group along with your team constantly accessing and modifying certain file. You always want others to have the latest version of the file with updated content. What if you find out that the changes you made are not synced? Google Drive application does not provide an option to trigger a manual file sync instead it does it automatically.
If you find that your files were outdated by days, what would you do to sync them or always have them in sync. Here is an app that I came up with to address this issue.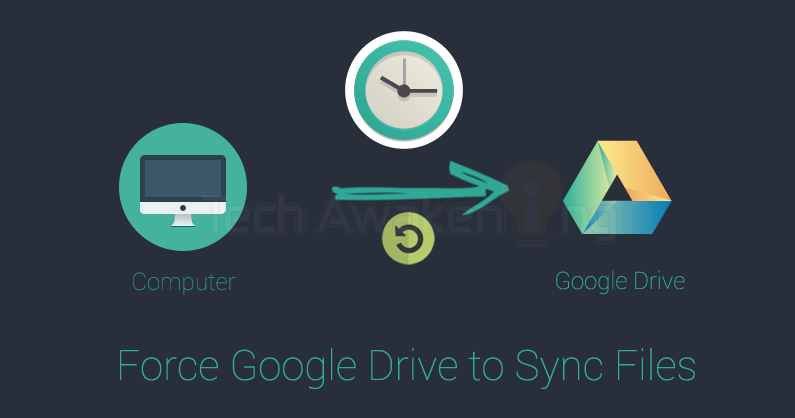 Force Google Drive to Sync Files and Keep them Updated
Meet Google Drive Force Sync, a tiny app which helps you keep your Drive content always in sync by forcing manual updates periodically.
How it Works?
As of now Google Drive app doesn't have any option to force file sync manually. But there is one behavior of the app which we can use it to our advantage. Each time drive application is opened it scans for new files it has missed out to sync. So our app will be automating this, it will be restarting gDrive application every 5 minutes and hence triggering file sync and keeping contents as fresh as possible.
How to Install and Use the App?
1. Download and rename file extension(Press F2) from .abc to .exe. Then run Google Drive Force Sync.exe

2. That's it. Now on, every five minute Google Drive app will be restarted automatically.

3. To terminate this app, right click it from task bar and click exit.
Note: Google Drive application should be installed only in default location under Program Files for this to work. Otherwise you will get an invalid path error message.
Tips and Suggestions:
1. Pausing and resuming sync sometime helps in forcing updates.
2. If there are files which are still not synced at all, you can right click on Google Drive icon on task bar-> select view unsyncable files and then click retry all.
So did it work for you? Have better suggestions? Feel free to share it with us!
Credits: This app is inspired by tip from binarybum