Out of many tools that Google provides, Google Finance is considered to be one important tool for all investors and brokers. This service provides wealth of information about all companies. It provides vital information like live stock price, highest and lowest, percent of change in prices.
It allows you to create an account and monitor organization/company stock quotes by adding it to your Portfolio. But in order to get hold of the information you have to be online and logged into your account. Wouldn't it be great if there was a way to keep you automatically notified via alerts? It does offer emails alerts but you have to create RSS feed and use Google Alerts to achieve it as SMS alerts are not supported.
There are lots of other services/tools that lets you get notification of Stock prices on your mobile but most of them charge for that. So here is a tool which will let you get free Stock price alerts via SMS from Google Finance itself. It's capable of monitoring three different companies at a given time and will send you SMS notifications to your mobile every 1 hour. The limit of only three companies at maximum is because of the message length restriction imposed by Google. In case you need Email notifications too, do let me know in comment section, I will let you know how to enable it. Below are instructions on how to get started.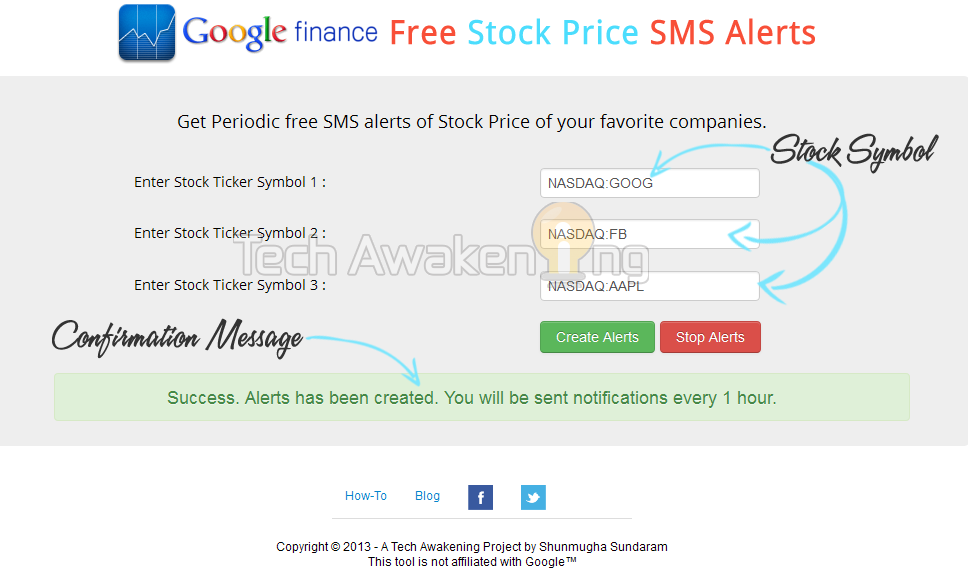 Get Free SMS alerts of Live Stock Price from Google Finance
Step 1: Configure your Google Calendar to set SMS as default reminder channel
You can follow the instructions available at linking your mobile with Google Calendar for SMS notification from our previous article. Once done continue to next step.
Step 2: Setup of the Project on your Google Drive account
1. Log in to your Google Drive account.
2. Open this Google Finance Free Stock Price Alerts project (V2.0).
3. Make a copy of it by selecting File-> Make a copy. Then select Tools-> Script editor
4. Grant access by selecting Run-> AUTHORIZE. Now click the continue button from the pop up then click Accept.
5. Select File-> Manage Versions. Then click save new version and press OK.
6. Now select Publish-> Deploy as web app and click Deploy. The app is ready now. Copy the generated URL and paste it in the address bar and hit enter. You can bookmark it for easy access.
Note: If you were previously using the old version of the script make sure you disable it by clicking stop alerts from it.
Usage Instructions:
– This tool is capable of monitoring three Stock Symbols at a time.
– Finding Stock symbols: You can find symbol of any company of your interest by visiting Google Finance and searching with company name. Copy that symbol and paste into the tool.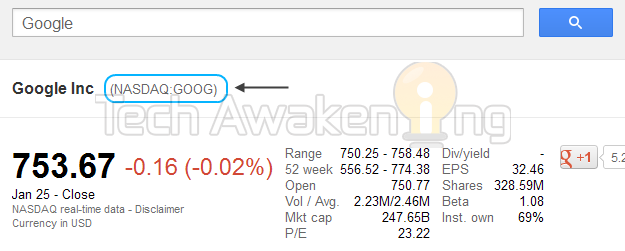 You might also like: Get Free SMS Alerts for New Emails on Gmail and Get Free Cricket Score Alerts on your Mobile
– Enter the Ticker symbols of your interest and click Create Alerts. Enter at least one symbol(Ticker Symbol 1) is mandatory.
– Now on Stock Price alerts will be sent to your mobile every 1 hour.
– You can stop receiving notifications by clicking Stop Alerts.
So, did you like the tool? Did it work for you? Have any features to suggest? Feel free to drop in with your views.