Consider you are a teacher working on assignment question paper which you have created in Google Docs and shared with your students. You want to automatically send out notification whenever you edit the document Or say you're a Project manager working with your associates to prepare a presentation and wants to be informed when updates are made.
Google Docs does have notification feature but it's supported only in spreadsheets. But what when you want this feature in a Google Document, Slides, Form or Drawing?
You can use add-ons/extensions to monitor file changes but they are browser restricted and you should be physically available before the system to get notified of changes. Privacy is another big concern. How about creating our very own solution with Google Script?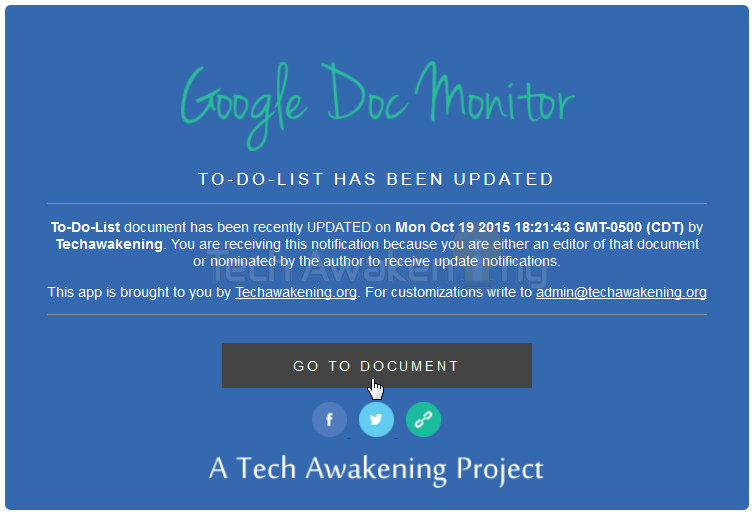 How To Get Email Notification When Any Google Document is Modified?
Meet Google Doc Monitor script which will help you monitor literally any file in your Google Drive account and send automatic email notifications to any recipients you want whenever it's edited or updated.
Let's get started.
1. Finding ID of File you Want to Monitor
Log in to your Google Doc account.
Open the file you wish to track for updates.
From address bar note down the unique ID of the file.
Example URL: https://docs.google.com/document/d/1GE8N1Jv-eDquicjb5DrnO91SkNVY-Or1M0DKb_UZQtc/edit
File ID: 1GE8N1Jv-eDquicjb5DrnO91SkNVY-Or1M0DKb_UZQtc

2. Installing the Script
Click here to open Google Doc Monitor Script (Version 2). Next select File-> Make a copy
Select Tools-> Script Editor. Then Resources-> Advanced Google Services. Scroll down and toggle Drive API to on. Click on the Google Developers Console link on the bottom. Select Drive API under Google Apps APIs. Press Enable API. Close the page. Finally click OK from the previous pop-up.

Now configurations are all done. Go back to the sheet and select Google Doc Monitor menu-> Authorize. Click continue and then Accept. This is an one time activity.
Copy, paste the File ID which you noted down previously in cell C6.
Enter email id of recipients to whom update notifications should be sent in cell C8. You can enter multiple id's separated by comma.

Note: By default alerts will be sent to all editors of the documents. If you don't want to send to any additional people other than editors just leave the cell C6 blank.

Select Google Doc Monitor menu-> Initialize
Finally select Google Doc Monitor menu-> Start Monitoring

That's it. Here on the concerned file will be monitored for any changes or updates and notifications will be sent as and when it happens. Polling is done once per hour.

Note: You can close the sheet once setup is done, monitoring will be done behind the scenes.
So did it work for you? Drop in if you have any queries or feedback's.