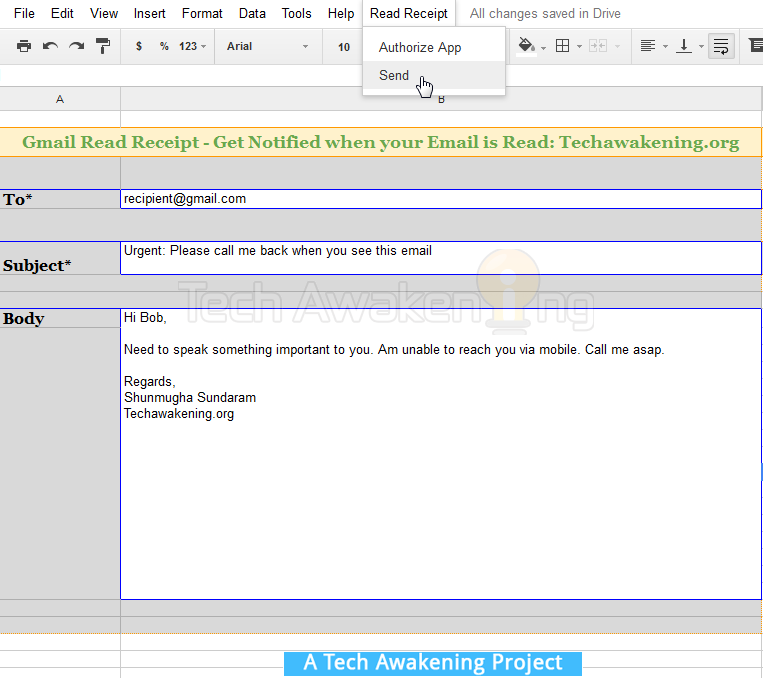 Gmail is undeniably one the most widely used web-mails worldwide. Though it has a lot of features it can boast off, it does lack some functionality that many users would love to have. For example ability to sort email by sender, date etc., are missing.
One such most requested feature in Gmail is read-receipt. It's currently available but only to Google Apps account holders (Business, Education, and Government).
Consider a scenario: You have bought a product online for which you have been charged additional. You have sent out an email to concerned vendor asking for refund of your extra charges. So, how would you know that they have received/opened your email?
Solution: Simple answer is to use read receipt.
Currently there are many third-party email tracking tools that lets you get this feature in your Gmail account. But the question of privacy always comes to mind. Though it's available in-built in Google Apps Gmail account, what about the Gmail users? How would they use this feature?
Introducing Gmail Read Receipt Notifier:
With this in mind I have come up with a tool that lets you create your own email tracking system which will send you notifications when someone has read your email. This tool can be used by any Gmail user or non-Google Apps account holder for their own purpose. The data you provide will entirely be private to your account. Below are instructions on how to get started.
Get Read Receipt Notification for your Emails in Gmail with Google Docs
Step 1: Installing and Setting up the Application
Log-in to your Google Docs account.
Now click here to make copy of Gmail Read Receipt Notifier V2 app. Click Yes, make a copy.

[Updated on Dec-23-2013 – Version 2 Released]

Wait for few seconds for the menu Read Receipt to appear next to Help. Select Authorize App from it. Now click OK in the popup and finally click accept.
Select Tools-> Script Editor.
Now from select File -> Manage Versions, Click save new version and press OK.
Publishing your app: Select Publish -> Deploy as web app. Under Who has access to the app select Anyone, even anonymous.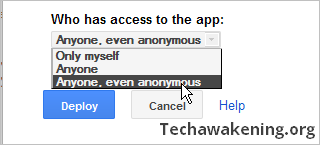 Step 2: How to Use the Application
Start composing your email.
Enter recipient email at cell B4, enter subject at B6.
Enter body at cell B10:B26.

Tip: To enter new line (enter) in the body press CTRL + ENTER

Once you are done. Select Read Receipt -> Send. For the first time alone you will be prompted for your Gmail ID. Enter a valid ID. This will not be known to anyone except you. So you need not worry about it.
Again select send from Read Receipt menu. Your email would be sent.
Now on whenever this email has been read by someone you will receive an email alert to your Gmail ID with the time-stamp on when it was read.
How to test it out?
Send an email to someone using this tool.
Now log-in to recipient email account from a new browser. E.g. Use Firefox in-case you used Google Chrome/Internet Explorer to send out that email.
Open the received email.
You should get an alert in your Gmail inbox stating that the email was read like the above screenshot
Now on find out who actually speaks truth and who does not 😉 So did you like the tool? Are you stuck at any step or unable to get it working? Feel free to drop in your comments, views and suggestions!