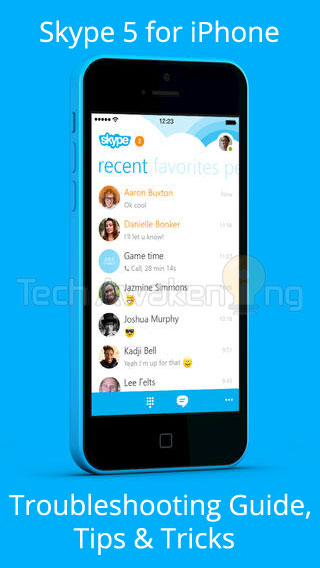 Recently Skype for iPhone got a huge revamp under version 5.0 release. It was remastered for iPhone to give a very slick, rich user experience.
Yes, interface looks good and easy on eyes, with flat minimal design being used it was made to look similar to Windows phone counterparts. It was made to be faster and smoother. But give all this still there was quiet a drop in average user rating in App Store after this version was released.
The reason is that many of the features from old version have gone missing in latest version. Users are literally outraged expressing their anger in official forum. Some features like receiving voice mail have gone missing but many other old features are still on, it's just that they are hidden and not straight forward to use. This article discusses how to get back some of your old favorite features like deleting chat history, editing messages and many more.
Skype 5.1 for iPhone: Get Back Missing Features
1. How to Delete Chat History and Conversations:
This is one of the most requested feature by many users in various forums. You will be surprised that it's already available it's about where to find it. All you need to do is go to recent tab-> click and hold the conversation you want to delete. Now there will be pop up menu from the bottom from which you must select delete chat.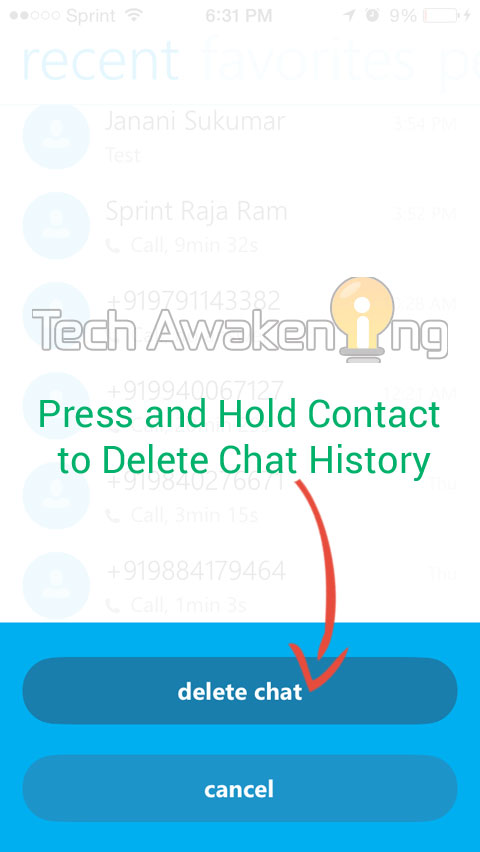 2. How to Edit/Delete a Sent Message:
Accidentally sent out a wrong message or with typo error? Click and hold the appropriate message now a menu will pop-out from which you can edit, delete or copy it.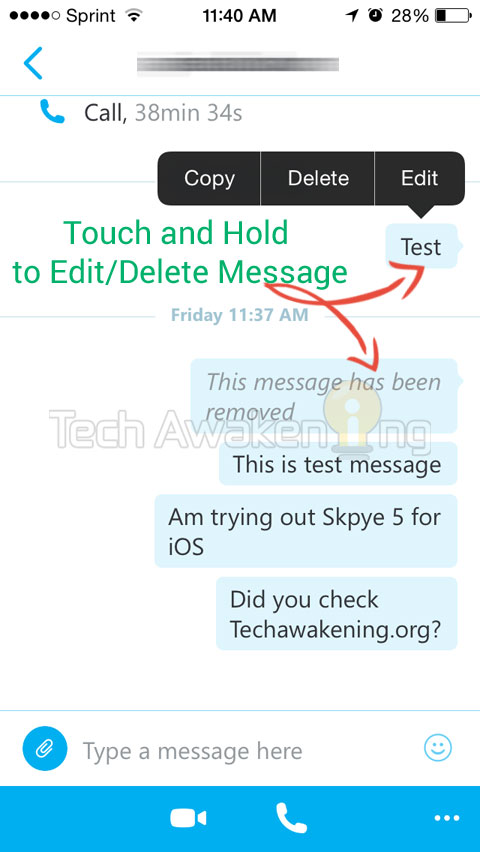 3. How to Add Contact Name to Phone Number:
This is a tricky one. You can import contact from dial screen by clicking on phone book at top right. But the problem is that iPhone contact name does not get assigned inside Skype. Randomly for some contacts it shows up and for some it doesn't. There is no option to add/edit name in the app, so we will use a workaround for this.
– Download Skype on your computer.
– Install it.
– Login using your Skype credentials.
– Select Contacts -> Add Contact-> Save a Phone Number.
– Give a name and type mobile number and click Add number.
– Wait for few seconds, log out of Skype in iPhone and login again you should be seeing name instead of just number.
4. How to Delete a Contact:
As before you can always use desktop version to delete, just right click on contact and select Remove from Contacts. In-App workaround is as follows: Click on the contact from people tab-> tap on the menu at right bottom(three dots)-> block-> block and remove.
Note: It will not just remove the contact but blocks as well so you must unblock to add them again.

Update: In Skype 5.2 it's more easier, tap contact from people tab-> click three dots at right bottom-> profile-> again click dots at bottom-> remove contact-> remove
5. How to Set Mood Message/Status:
Let others know what mood you are in. Click on your profile photo at top right corner. There will be place holder stating "Enter mood Message", tap on it and enter what you want and then click done.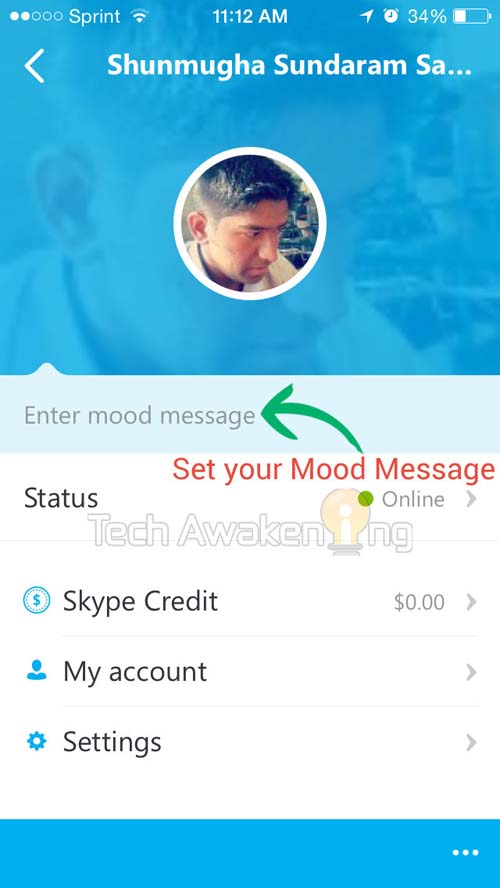 6. How to See People Who are Online:
Go to people tab and click on the down arrow just below the search bar then from the menu, select online.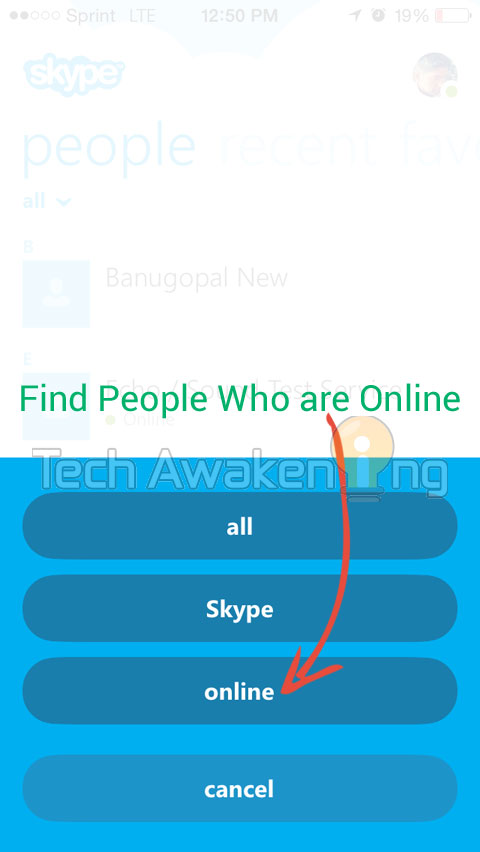 7. How to See Time stamp of Individual messages:
By default, just start time of the conversation is shown but if wish to see at what time a particular message was sent you should touch, hold the screen and swipe left. Now you should notice time across each texts on the right.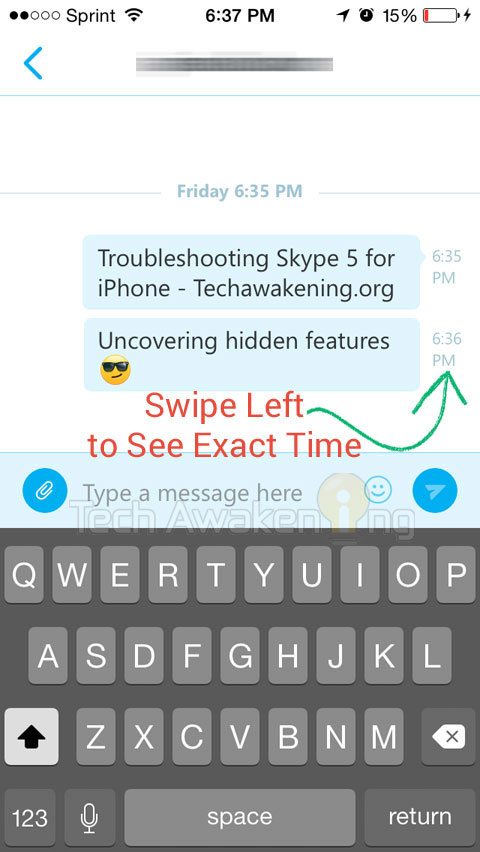 8. How To Send Photo/Video Attachments:
Click on the Skype contact to whom you want to send the file from people tab. Then tap on the pin icon at the bottom left. Click photo to send pictures and video message to make a live recording.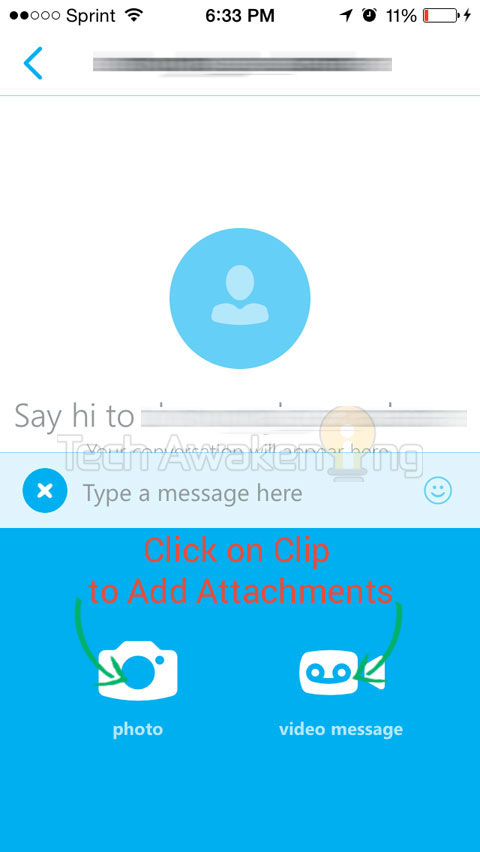 New Features Introduced in Skype 5.2:
[Update: July-08-2014]
9. Send and Receive Voice Messages:
Finally you can now send as well as receive voice messages. This should make many users happy. Make sure you have enabled it. Go to your profile-> My account-> Under Manage features select Voice messages-> Slide the switch to green and click Save changes.
10. View Profile of Contacts:
Click the contact from people list then tap three dots at left bottom-> profile. This should display you profile information about the contact or you can directly tap contact name on the top to see profile.
Bonus Tip: Prevent automatic update of apps, always read reviews before you update to the latest version. Click Setting-> Scroll down select iTunes & App Store. Under Automatic Downloads, slide off the switch if it's in green.
So did you like the tips? Have any features to suggest? Feel free to drop in.