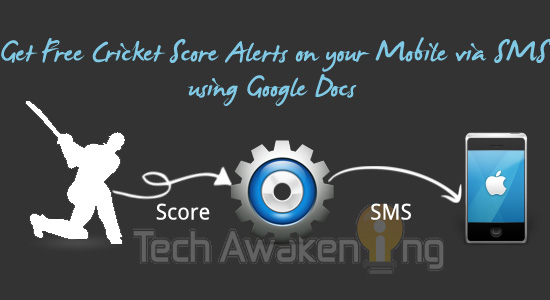 Cricket has always been one of the most favorite sport in many parts of the world. Craze of this awesome sport seems to have caught many with introduction of new formats like T20. This has made it more entertaining and exhilarating to watch.
If you are a crazy cricket fan I am sure you would never miss out on watching any matches especially when your favorite team is playing. In case your not able to watch it you might at least would love to keep yourself updated with latest scores. Some ways you might opt for could be checking out sport news website or install apps on your mobile to keep yourself informed with latest happenings. Other alternatives would be to subscribe to SMS notification services provided by your telecom operators which ofcourse they charge you.
But it's not always that you have an active data connection on your mobile or have access to sports sites for example when you are behind corporate or school firewall. So, is there any way or service to get free cricket score alerts on your mobile? To be frank I couldn't find one,if available I wouldn't mind giving my mobile number to a third party service for privacy concerns. There is always a chance of you falling a victim to annoying marketing calls and spams. So I have come up with my own service that will send you live updates via SMS. Thanks to Google Docs. With ICC T20 World Cup 2012 super eight stage just beginning you should be finding this service useful 😉 Lets get started with instructions.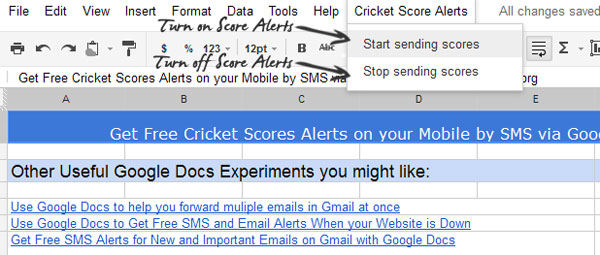 Get Free Cricket Score Updates on Mobile by SMS using Google Docs
1. Linking your Phone with Google Calendar
You can follow the instructions on how to link your phone with Google Calendar for SMS notification from our previous article.
2. Starting Cricket Score Alerts Service from Google Docs
Login to Google Docs.
Click here to make copy of the spreadsheet. Click Yes, make a copy.
Once the page has loaded, wait for few second for menu Cricket Score Alerts to appear just next to help menu.
Now select start sending scores. Click OK then click Grant access in the big authorization notification that comes up. Finally press the close button.
Once again select start sending scores from the menu and wait for a while.
Now on you will be getting live updates on your mobile via SMS every 10 minutes.
3. Turning the service ON/OFF via an Email
You can turn off this service from the menu by selecting stop sending scores but to add more flexibility I have also added an option to control this service via email once you have started it from Google Docs as you might not always have access to Google Docs for example from your work place.
So you Turn ON this service by sending an email to your Gmail Id which you used to log into Google Docs with subject as
start score
Similarly Turn OFF by sending
stop score
Note: Body of the Email can be left empty.
Here is a screenshot from my mobile: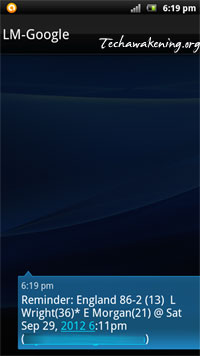 So, liked it? Did it work for you? Have any suggestions, queries, clarifications or found any bug feel free to drop in. If you found it useful do share it on social networks. Spread the love. Stop subscribing to paid services instead use this service,ofcourse all for free 🙂