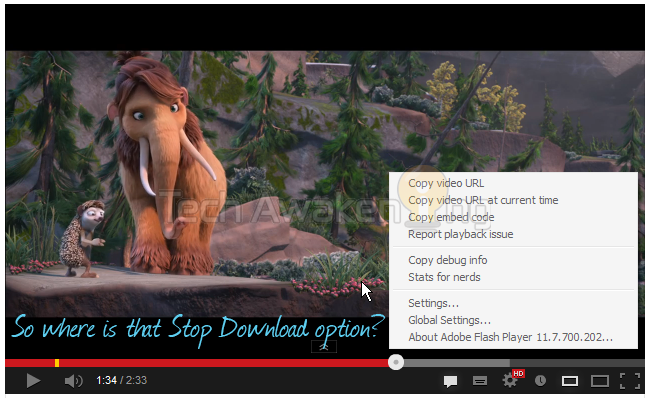 Recently YouTube has been undergoing lot of changes in its user interface as well as in features. Some of them have been well received by users while some changes have literally infuriated many. The number of threads and discussions going on in various forums are a proof of it.
One such recent change which many might not have noticed is that YouTube has officially removed the Stop download option. I was a vivid user of this feature and sure so were many others. Alternatively now you have to pause to stop videos.
Scenarios which best require this feature:
I have a very slow broadband with limited data usage. Previously whenever I am watching a video and at the same time if some important download is going on, I tend to stop the video to speed up the download process but since the removal of the feature all I can do is to pause,which still causes video to buffer, eating up my data.
Often when seeing some video you might end up getting bored so you might wish to stop that video and start exploring other interesting related videos but you cannot do that now.
So I thought of coming up with a simple solution which will help re-emulate the missing YouTube stop download feature. Here's how you can do it.
Get Back the Missing YouTube Stop Download Option
Meet YouTube Stop Download Bookmarklet which will help you achieve the feature which has gone missing. Since being a bookmark it will work across any browser without any dependency.
How to use the bookmarklet?
1. Drag and drop the below bookmark (blue button) on to your browser bookmark bar. If the toolbar is not visible, make sure you enable them from view menu.

2. Now you are done with the installation. Go to any video you wish to on YouTube.com and play it.
3. When you wish to stop the video, click on the bookmark you just made. You will see that the video will be instantaneously halted without any further buffering thus saving your bandwidth.
4. You can resume the video by clicking on play button.
So, did it work for you? If you are stuck somewhere feel free to drop in with your queries. Hope this tip helps to save your valuable bandwidth.