Pinterest has certainly been hottest topic of discussion on the web offlate. It is revolutionizing the way in which we are sharing the interesting things we find on web. A picture is worth a thousand words is the driving force behind this social networking site. For those who are new to it, Pinterest is pinboard-styled visual bookmarking, social photo sharing website. It allows you to create and categorise images as boards where you can pin things you like. It is still not open to all only invited users can join the site, adding an exclusivity factor to it. You can get an instant invite to Pinterest from us by commenting here.
Internet marketers, bloggers and content writers have started making the most of this site because it is said to generate nearly more referral traffic than Google+, You Tube and LinkedIn put together!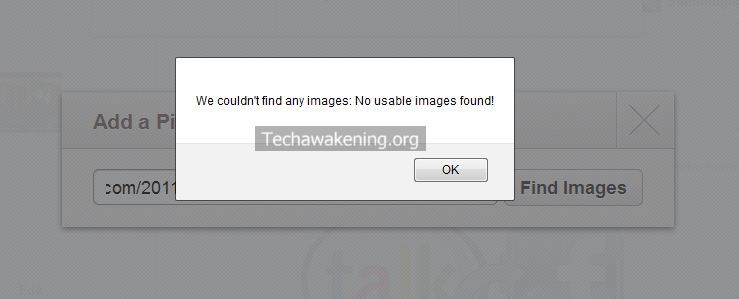 In this article we are going to see a solution to one of the annoying errors of Pinterest. In order to pin an article you need toenter the URL and then click Find Images. Pinterest grabs hold of some images available on the page from which you can select the one you like and then add a description and post it on your boards. But sometimes you end up getting this error "We Couldn't Find Any Images:No Usable Images Found". It really does frustrate you because even though the page has many to be shown the Pinterest does not seem to pick up any of the image but instead shows this irritating error message, preventing you from pining! I am not sure if this is some sort of a bug but lets see how to overcome this.
How to Fix Pinterest We Couldn't Find Any Images:No Usable Images Found Error?
1. Whenever you come across this error the simplest alternative to overcome this is to use "Pin It" bookmarklet.
← Drag and Drop this bookmarklet on to your Bookmarks Toolbar.Pin It Button
If you are not sure on how to install the Bookmarklet follow the below video demo.
Now visit the page for which you got the error message and click on the Bookmarklet. Voila! You get all the images in the page and you can select the one you want and pin it as usual.
2. If even the above method does not work you can always manually upload the pin. Download any pic you want from the page. Click Upload a Pin and select the pic you downloaded then add description and pin it.
Note: Most of the time I got the problem resolved with first method.
So, were you able to fix this annoying error of Pinterest? Which method worked for you? Know any other alternate solution to this problem?