Instagram has become one of the most revolutionary photo sharing app till date. Though the idea of the application is as simple as adding filter to your photos it has created a great impact among users across the world. The shear number of users would tell the success story of it. Most importantly it has even more come into the limelight with Facebook purchasing it understanding the potential of it.
Photos are of immense value to many of us, it takes us back through times, through happy and sad moments. The vivid and vintage color this application adds to the photos makes it even more graceful and elegant. It has indeed turned many into photographers bringing out the creative side within them. I have always been a person who searches for ways to make my pictures more memorable and simply magical,Be it a simple Photoshop effect or some tools to add that bit of magic to the photos.
Some options would be turning your photos in an artistic painting or converting them into beautiful pencil sketches. Creating a mesh-up of your photo collection is another great alternative. In this article lets see some services that lets you import and create collage of your Instagram photos online free of cost. You might have seen some users exhibiting theirs if you where wondering how it's done. Here's how.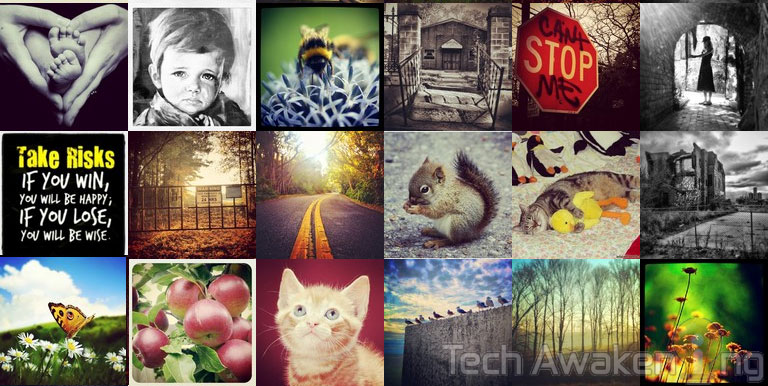 Free Online Services to Create Collage of your Instagram Photos:
1. Printsgram: This is our best pick out of all that's available. It provides you options to select various layouts like A3, A4 etc., It not only allows you to create soft copies but you can also order for hard copies of posters, stickers you make which is powered by Peecho.
Once layout is selected, drag and drop the pictures you like on to the available slots and hit create button. When the poster is ready click view on gallery. Now click on Download PDF to get a digital copy of it.
2. Wallgram: This one is equally good as the previous one. It instantly lets you create photomontage from your picture collection. All you need to do is select device type and hit wallgram it button. Output poster can then be right clicked and saved on to your system.
– Wallgram
3. InstaWallpaper: Though this service is not as rich as the previous one it does a decent job. The major drawback is it does not allow you to link your Instagram account instead you have to mention target photos via your user ID, categories or tags. You can get your Instagram user ID via third party tools. After selecting suitable options, click preview and download the image.
4. Loupe: It's an awesome services that lets you create collage from various resources including Facebook, Twitter, Google Drive, Instagram and many more. Though it has great features like creating posters of custom shapes, easy to use GUI it has the drawbacks like the previous services, it does not allow you to import pictures from your personal account instead you can only select photos based of keywords and categories.
– Loupe
With Thanksgiving Day just gone by and Christmas, New Year coming up I am sure there would be huge list of heart warming pictures in your account. So start using the above services and make pleasing posters and collages out of them. Which tool did you like the most ? Know any more of them ? Feel free to share it with us.