Most of us would agree that we are big addicts of Facebook. We cannot keep ourselves away from it even for few hours. We constantly are in touch with our friends through this addictive social network. Consider a situation, it's your best friend's birthday and you want to be the first to wish him/her but you happen to end up getting greeted with this error "You are Using an Incompatible Web Browser" from Facebook when you tried to login. You might wonder though using the latest version of the browser why am I getting this message. I am sure this would frustrate you to the core! There is no way to login unless you get past this error. Let's see few suggestions that can help you getting this fixed.
Tips to Resolve Facebook You are Using an Incompatible Web Browser Error:
The key reason to this is your Browser User Agent. You might be using the most latest version of your browser but is Facebook able to recognize your browser from its User Agent string is the question to be asked. Here's how you can check it yourself.
1. Check your browser User Agent by visiting Whats My User Agent.
Are you able to see a valid string or is it null? If your agent string is malformed or null, Facebook would pop up an error message.


2. Troubleshooting the reason for malformed user agent and overriding it: Some add-on could have corrupted the default identifier string. If you are a Firefox user, type about:config in address and hit enter. Click I'll be careful,I promise! button. In filter enter general.useragent.override now double click on the result and see if the string is valid or not.
Example: Mozilla/5.0 (Windows NT 6.1; rv:2.0) Gecko/20100101 Firefox/4.0
If not valid or if it's empty, copy paste the example string into the value. If the key is not available, you can create your own by right clicking and selecting New->String. Enter the preference name as general.useragent.override and value as the above example. Other browser users can check the article Changing Browser User Agent Strings. If the settings you made keeps getting overwritten, try disabling all the add-ons and find the add-on causing the problem by trial and error method. But in case if you find your user agent string valid/normal and yet you are facing this problem then proceed to step 3.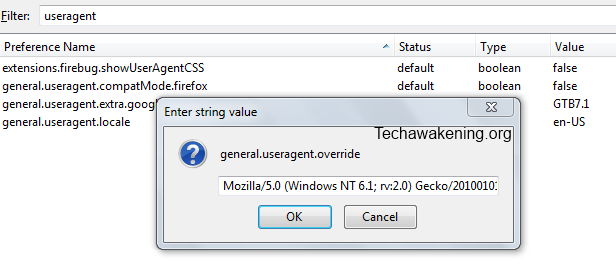 3. Disabling and Loosening the settings of Firewalls: Sometimes Firewalls could be the culprit. If you have enabled a strong security setting or enabled stealth mode, your firewall could be stripping data from your requests on the fly. Data like your Operating System, Browser signature (HTTP_USER_AGENT) might have been removed to maintain privacy. This makes it difficult for Facebook to understand what agent is being used hence the Incompatible browser error. So try disabling your Firewall or loosen up your settings from strict to normal or disable stealth mode. This should probably fix the error.
Happy Facebooking 🙂
So did the above suggestions help you getting resolved Facebook's annoying message you are using an incompatible web browser error? Do you know any other better alternatives? Share it with us!