Scribd is one of the biggest digital library featuring over 100,000 books from various publishers. As guest user you are allowed to view and read books online but with constraint of ability to see only limited pages.
Previous we wrote an article on how to download files from Scribd for free without an account which got a great response from readers but since then Scribd has changed its business model and beefed up their system and have become more stringent and all method listed were patched up. But you can still use our latest upload method to free download documents without registering/logging in.
Currently you have to pay $8.99/month to get unlimited access to books, download rights. Though you can try suggestions listed in our old article it was bit tricky for non-techie users. So in this article will share easier tips on how to get free Scribd trial account with extended subscription period without paying money.
Get Free Scribd Trial Account and Extended Subscription
Use the below suggestions to save some cash.
1. Using One Month Free Trial Offer:
By default Scribd offers you one month free trial which you can opt for. It gives you privileged rights like unlimited access to books, ability to download member contributed files as PDF.
Credit card details are required to register but will not be charged. You should cancel the free subscription just in time(32 days) to avoid being billed hence you can enjoy one month of access without being charged.
Bonus Tip: Cancel your subscription at any time from the Account Settings-> Order History -> Subscriptions
2. Extending Free Subscription via Referrals:
Register a Scribd account.
Log-in to your account.
Click profile settings on top right corner.
Select Free Subscription!.

Now you will be seeing screen as below. You have various options to earn free subscription. For example sharing/liking on social networks gives you 1 week for each of your actions.
Select Invite button and enter email ID of your friends. For each invite you get 1 day extra.
Once you have piled up enough days start your free trial.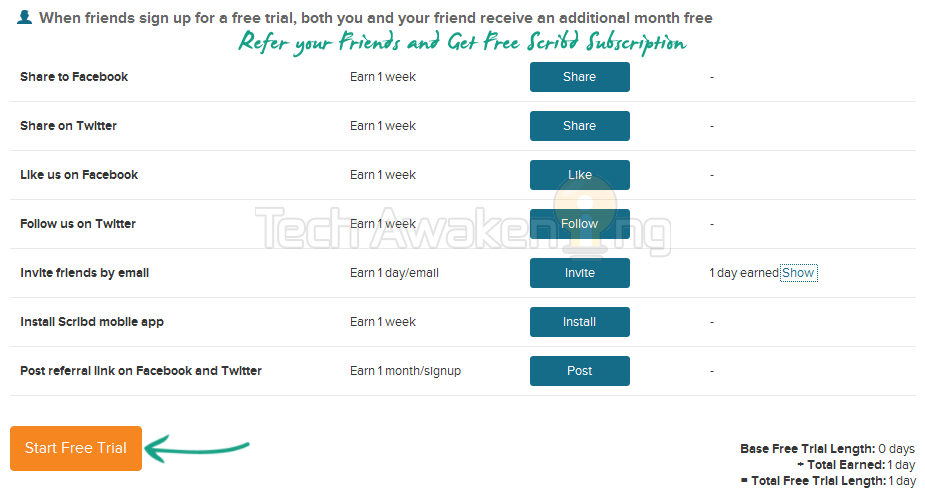 Bonus Tips:
When inviting, you can use dummy email ID's they are considered valid!
When your friend signs up(requires credit card details but not charged) via the invite you make he gets 2 months for free trial for just $8.99 and you get one month of extra bonus added to your account from referring him. Hence total saving of $17.98.
Instead of inviting your friend you can even send invite to your secondary email ID and sign up via that referral link.
Note: The key is to cancel the free subscription on time and make the most of what's available.

Did you like above suggested tips? Have better suggestions/tricks to share with us? Feel free to write in.